Microsoft Teams for Windows 7
The system requirements of the program Microsoft Teams indicate that it can be installed on computers and laptops with an operating system no older than Windows 7. This means that it should work on it without any problems if the PC meets the rest of the requirements. This article will show you how you can download Microsoft Teams for Windows 7. We will also deal with the first launch and configuration.
Instructions for using the program
First of all, you need to download and install the latest version of the program. To do this, make sure that your computer and laptop meets these requirements:
Screen resolution – no less than 1024 x 768.
RAM (RAM) – from 2 GB.
CPU frequency – from 1.6 GHz.
Installation instructions:
Go to the official website of MS Teams. For convenience, we have left a link to it under the article.
LMB on the "Download…" button.
A file named Teams_windows.exe or Teams_windows_x64.exe will start downloading, depending on the bitness of the operating system. When the process is complete, open it directly from your browser.
It remains only to wait a few seconds, during which Microsoft Teams will be installed. The program will launch automatically and a login window will appear for the first time: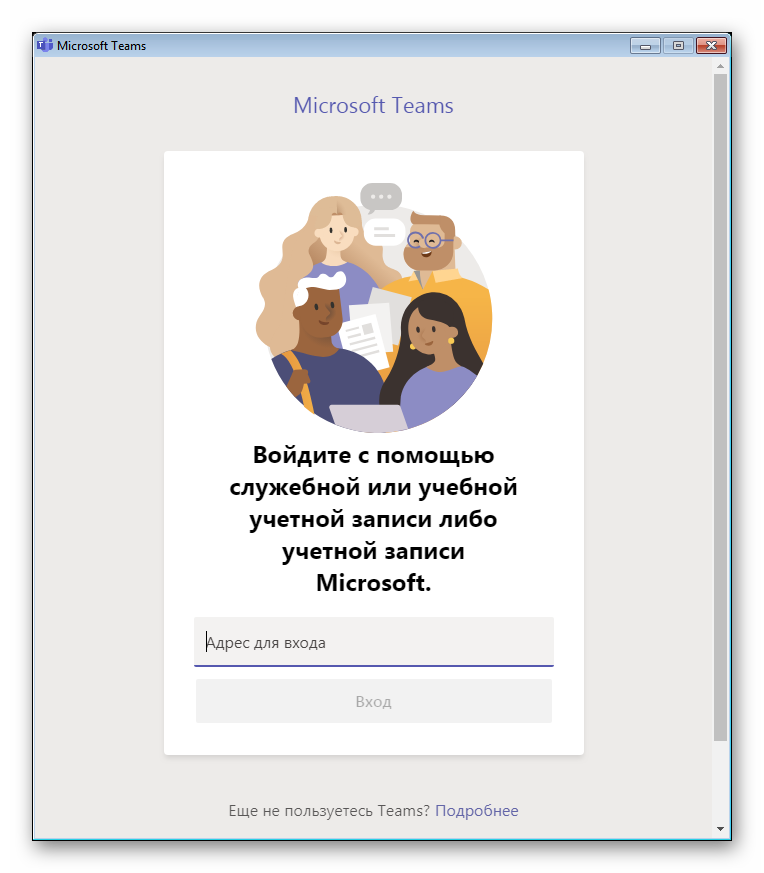 Log in to your account by entering your email address and password one by one. And if it is missing, then go through the registration procedure .
Now it is advisable to perform the initial setup in order to check the sound and video connection.
Initial setup
To get to the settings page will go like this:
Open the Windows system tray (lower right corner).
Right click on the characteristic icon.
Click on the Settings button.
Now open the Devices section.
In "Speaker", select the correct headphones or speakers.
Do the same with "Microphone" and "Camera".
Now click on "Make a test call".
Now make sure that the picture and sound are normal. Change the settings if necessary and close them. Changes will be made automatically.
This completes the installation of the program, you can chat and participate in meetings with your friends and colleagues without any problems.