Microsoft Teams for mobile phone
The program Microsoft Teams for online communication and hangouts has not only a client for the computer , but also a very convenient mobile application. All basic functions are present in it, but the appearance itself is focused on smartphones. It is great for connecting with colleagues and acquaintances on the road and in other situations where there is no access to a computer or laptop. Microsoft Teams can be downloaded to your phone for free by anyone. In the course of the article, we will analyze the procedure for installing the application.
Installation instructions
Microsoft Teams is currently available on Android smartphones, as well as on various iPhone models. These are the two most popular mobile platforms. But on Windows Phone, the application is not supported. This is due to the fact that the operating system has not been updated for a long time, and devices with it have not been produced for several years.
For this reason, this article will cover the installation process of MS Teams for Android and iOS. Jump straight to the section you want.
Instruction #1: Android phones
The traditional source of applications in this case is the Google Play store. That's what you should be using:
Open "Play Store" on your phone. The corresponding icon is easy to find on the desktop or in the menu of all applications.
Activate the search form at the top of the window.
Type Microsoft Teams using the virtual keyboard.
Click on the top tooltip, which is marked with a characteristic icon.
Run the installation procedure.
When prompted, give the application full permissions.
Tap the Open button at the end.
There is an alternative option to install Microsoft Teams on Android. It consists in downloading the APK file with the latest version of the application. It should only be used when the device does not have a "Play Store" store or when the previous option does not work. More information is described in this article. Immediately scroll down to the section "Method #2: APK File".
Instruction #2: Installation for iPhone
In the case of Apple smartphones, the App Store store is used to download mobile applications. In it, you can easily find the latest version of MS Tims. For this:
Open this store on your iPhone.
Visit the search section using the bottom toolbar.
Activate the text form in the center of the page.
Type in Microsoft Teams.
Press the search icon on the virtual keyboard.
Open the desired application from the list of results.
Enable its downloads. Confirm the procedure if necessary.
Wait for it to complete.
First run
Once you open Microsoft Teams on your phone, you will see the following window: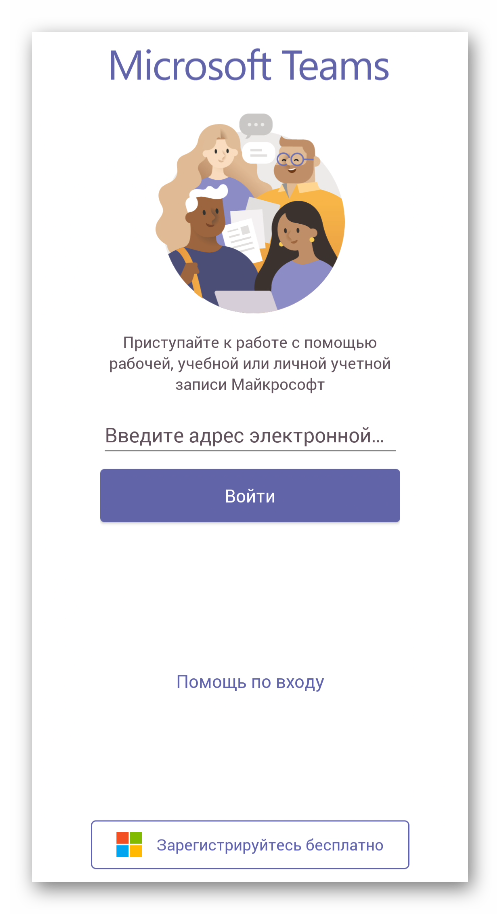 That is, to switch to using the application, you need to sign in to an account or create one if you don't have one. The registration procedure itself has many nuances, so we analyzed it in separate article. You can refer to it if necessary.