Error 4c7 in Microsoft Teams
4c7 failure can occur in three situations: when you run the program Microsoft Teams on a computer, or laptop, when you try to log into your account, or when you switch to another profile. It is especially frustrating when it repeats even after a restart. In this article, we will figure out where Microsoft Teams error 4c7 comes from and how you can fix it yourself.
Details
First, I would like to note that such a failure can only occur when using a work account. In the case of personal or educational, it will not arise. So, this is somehow connected with the organization in which the employee is a member.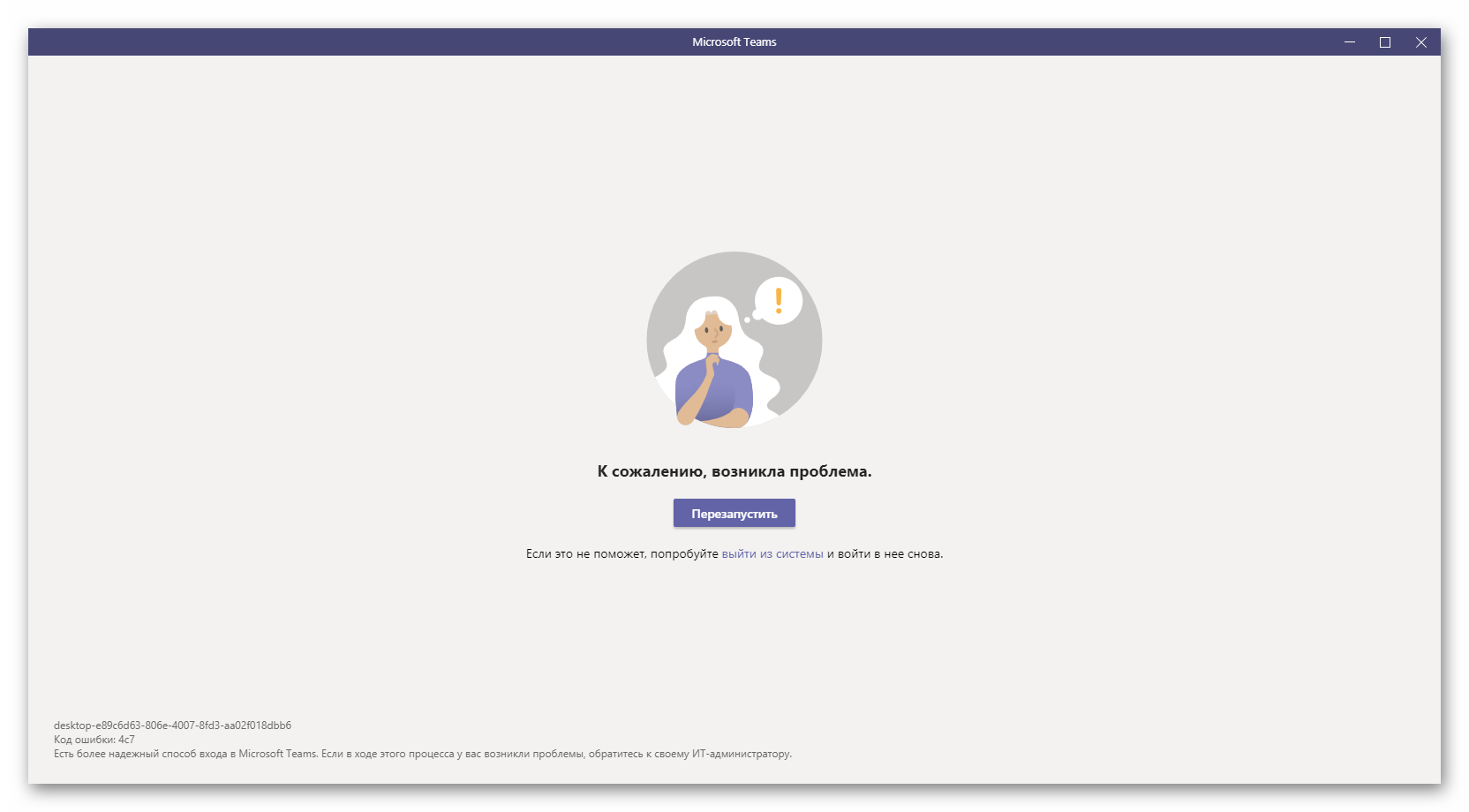 According to official information, the main reason for this failure is the operation of the AD FS application on the corporate network, which gives an authentication error when logging into the Tims account. In theory, the user can deal with it on their own, and in two ways:
A banal reinstallation of the program.
Temporarily switch to web version.
This is where we propose to start. And if this does not work, then at the end of the article there is another solution, but not so convenient.
First method: Reinstall Microsoft Teams
Let's analyze this procedure for the Windows operating system:
Press the Win + R keys on your keyboard at the same time.
In the text box, type control.
Click on OK to launch Control Panel.
Open Programs and Features or Uninstall a program.
Scroll through the list until you see Microsoft Teams.
Double left click on it as if you want to launch it.
Wait a few seconds, then the entry will disappear from the list.
Close this window and navigate to Teams official website.
Now click on the center button.
Download and run Teams_windows_x64.exe.
Log in to your account.
Second method: Launching the web version
Microsoft Tims does not have to be installed and run on a computer; you can use the web version that runs in a browser. For this:
Go to login page.
Alternately enter the email address and password from the "account" in the appropriate fields.
Confirm signing in.
Select "Yes" as an answer to "Don't log out?".
If the 4c7 error still appears, then unfortunately you cannot fix it on your own. This means you should contact your company's system admin or someone else who is responsible for deploying Microsoft Teams. Please describe your issue and submit this link.